The SWBA is the small business association that covers the Roosevelt park area in Grand Rapids. They hold an extra special place in our heart not just because we love what they do, but also because their Mindutopia's neighbors! We had the honor of helping them create a solid branding scheme that could be used in many different applications around the neighborhood, both print and digital. Once we nailed down the branding, we were then able to create many different assets for the brand, including streetlamp banners, window clings, a billboard, a brochure template, customized brand emails, and a print poster. 
Services
Design & Branding
Email Programming
Brand Guidance
Deliverables
Custom logo & branding
Billboard Design
Brochure template

"Real strength has to do with helping others"
-Fred Rogers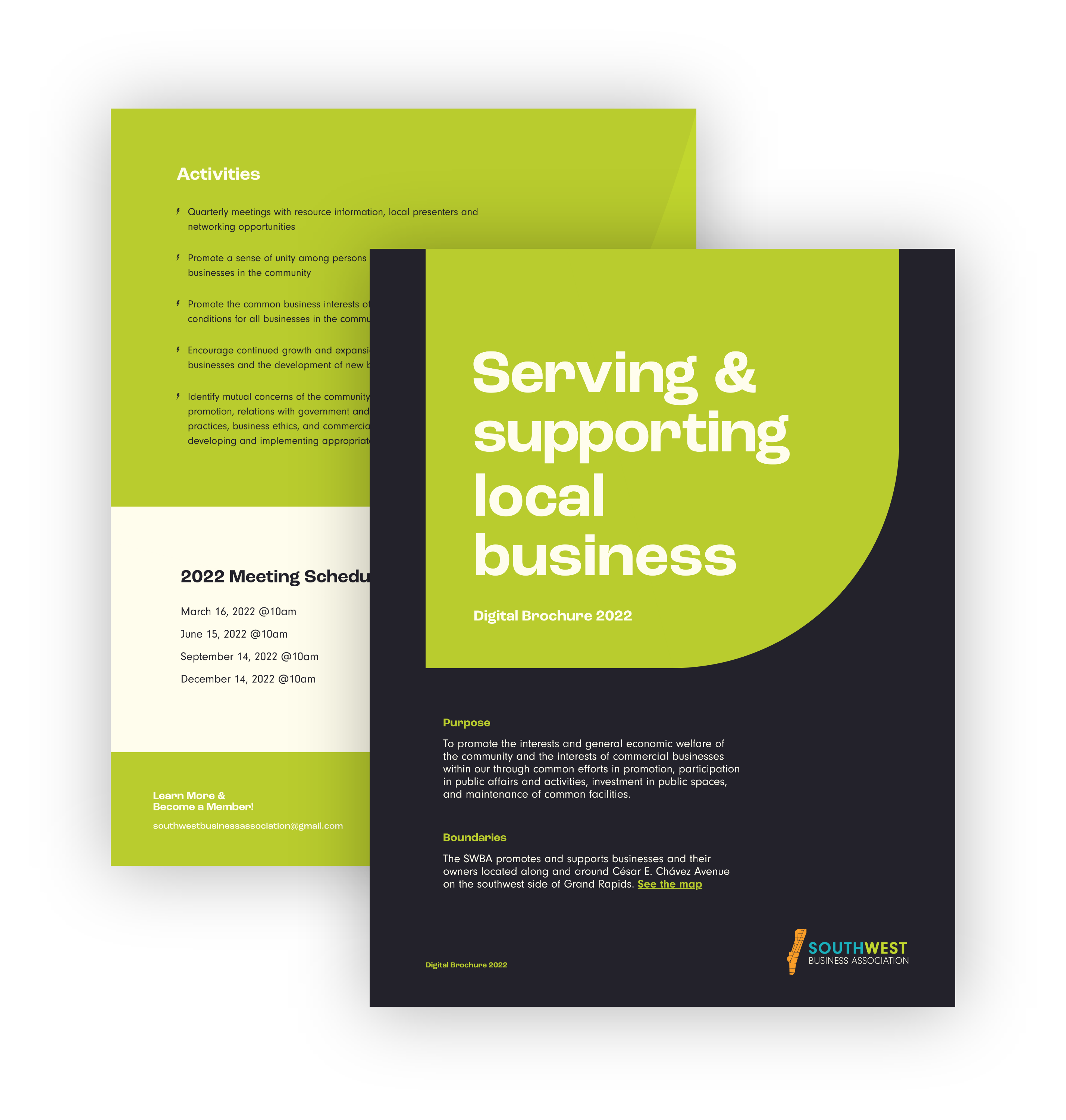 Calling all local businesses
One fun way we applied the SWBA branding we created was in a brochure template. The association holds meetings for local businesses every few months in an effort to help and support each other--so they needed an efficient way to announce their meeting schedule as well as appeal to new business owners in the area. This brochure was set up for them to be able to send digitally as well as printed.
It's not everyday we get to create unique assets like this with logos we design for clients, but our neighbors at the SWBA had other plans. They asked us to create circular window clings that businesses in the area could be sent to display on their doors and windows to represent the association. The result was a fun, eye catching graphic that shows off the logo and their website URL.
Something we can confidently say we'd never done before this project was designing and handing off a billboard design -- but boy was it a treat. Important announcements can come in all shapes and sizes especially when it comes to a neighborhood business association, but large scale design is always extra extra exciting.
Tell us more about your project and how we can help bring your ideas to life!